.
.
70 years. 70 years of waiting and hoping. 70 years of searching
for a closure no one thought would ever come. 70 years and
now what was once an impossible dream has become a
reality. Fr. Emil J. Kapaun has returned home.
.
Who is Father Kapaun?
.
Emil J. Kapaun was born April 20th, 1916 in the small town
of Pilsen, KS to Enos and Elizabeth (Bessie) Kapaun. As a
boy Emil's life was not much different from yours or mine. He
helped on the family farm, he played ball with the boys, he
went hunting, fishing, and he attended school at a little
schoolhouse in Pilsen to which he would walk to.
.
In 1930 Emil took up the call from God and entered into the
seminary and was officially ordained a priest on June
9th, 1940. He was the first Pilsen native to be ordained a priest
and celebrated his first mass 11 days after his ordination at
St. John Nepomucene Church, his home parish.
.
A few years later in 1944 Fr. Kapaun entered the US army and
was eventually shipped off to North Korea during the Korean War.
While here he experienced horrors no man should ever have
to endure, but never did he waiver and showed time and time
again what a true hero looks like. Father would pray with men
in foxholes, hold mass on the hood of his jeep, retrieve
wounded soldiers from the battlefield while bullets whizzed by, administer the sacraments
to the dying, and would bury the dead whether they were friend or foe.
.
On November 2nd, 1950 Chaplain Kapaun became a POW
and a few days later, along with other POWs, was forced
to participate in a 60-100 mile death march to the prison
campsite. He remained in the camp for seven months
selflessly devoting himself to the care of the other men
in the camp by visiting their huts for prayer and
conversation, treating the wounded and sick, sneaking out
to steal food for those starving, and even volunteering for
the brutal job of burial duty in those freezing winter months.
To this day the other POWs that were in that camp with him say
it was Father who helped them all hang onto their will to live and
to have what many thought couldn't be possible in such a
situation, hope. He lifted their spirits and when the end was
near he provided them with last rites and the comfort
of a "happy death" never once concerned about himself
and always focused on others.
.
After months of taking care of his fellow POWs Father fell
ill himself and the Chinese saw this as an opportunity to
rid themselves of a man they feared. They came into the camp
and brought Father to the "hospital" aka the death house. The
POWs began to fight the Chinese, refusing to let them take away
their Chaplain, their brother, their friend. However, he stopped them
and said, in true saintly fashion,
.
"Don't worry about me. I'm going where I always wanted to go, and when I get there, I'll say a prayer for all of you."
.
A few days later, on May 23rd, 1951 Chaplain Emil J. Kapaun, 35
years old, died alone in the death house, a true servant of
God, a martyr, a man any of those POWs would have
gladly laid their life down for.
.
Once the war ended and the POWs in that camp (known by them as Kapaun's Valley)
returned home, the stories of Kapaun's servitude and heroism spread
and Father Kapaun once again became a huge beacon of faith for many others.
.
Father Kapaun Makes It Home
.
On Saturday, September 25th, 2021 the small town of
Pilsen, KS prepared to receive the remains of one of
their own. I grew up just a few miles outside of Pilsen
and attended mass with my family every Sunday
at St. John Nepomucene. For as long as I can remember
Fr. Kapaun was a pretty big deal in the community and over the
years I have been able to watch as more and more heard
of his name, his acts, and his miracles making this homecoming a pretty
great thing to be a part of.
.
To prepare for his homecoming, flags were put up along
the road into Pilsen, his boyhood home was repainted to
match the colors it was when he lived there
(yes the pink trim is accurate!), news teams arrived, and people of
the community began to make their way to the church.
.
.
After Father was brought into the church, Father Bebak, the
current priest at Pilsen, held a short prayer session and
people were invited to come up to the front of church and touch the casket if they
wished. That day I was wearing two very special bracelets, bracelets
that my mom never took off.
.
.
One of the bracelets was from her cancer benefit reminding
her to "Fight Like a Bohunk" and the other was a Fr. Kapaun
bracelet. I walked to the front of the church and placed
both of these bracelets on Father Kapaun's casket…her
bracelets….on the casket of a man that guided her through so much.
.
Afterwards I walked over to the cemetery, bracelets in
hand, and kneeling in front of her gravestone placed these
bracelets on it so she could "hold" them as well. At this point
there was nothing I could do to stop them as the tears flowed
like a raging river out of my eyes. I sat there trying to get
out the words to tell her that Father Kapaun made it home.
Eventually though, as I continued to get slammed with wave after
wave of emotion I gave up, realizing that I didn't need to tell
her…she already knew cause she had been right
there beside me all day long.
.
.
Breaking GMA Out of the Nursing Home
.
I returned to Pilsen on Sunday for mass and y'all that
church was PACKED! I was lucky my dad got there before
me and was able to save me a seat! The mass was co
celebrated with multiple priests and Bishop Kemme and
it was definitely a mass that I won't soon forget.
.
.
After church I went and ate lunch with my crew and then my
dad and I made our way over to the nursing home to break
out 99 year old Grandma Jane. My grandma hasn't left the
nursing home in years, but this homecoming was something
too important for her to miss, especially for one big reason
the local news wanted to interview her about.
.
So the reason for the big fuss? Grandma grew up with
Fr. Kapaun AND he actually was an assistant priest at her
and my Grandpa Skeeter's wedding in August 1943. She told
us stories of watching him play ball with the boys and how
her older brother Pete would wait for Father at the end of
their drive to walk to school together.
.
.
At the end of her interview she talked about how she prays to Father Kapaun every day
for her grandkids and great-grandkids. I'm not crying you're crying.
.
After Grandma's news interview, we wheeled her
up to the front of the church so she could see touch the
casket and have a quiet moment with Father. We also placed
her wedding picture on top of the casket.
.
.
After Grandma had her moment with the casket, the church
started to fill up with others who were there to pay their
respects so we wheeled her out and brought her down into
the basement to meet Fr. Kapaun's nephew, Ray Kapaun.
.
.
A Hero Is Laid To Rest
.
On Wednesday, September 29th, 2021 thousands
gathered, both online and in person at Hartman Arena, to
attend the funeral of an army hero and future saint.
.
.
Walking into Hartman they had photos set up of Father.
.
.
The funeral, like the rest of the weekend, was a once in a
lifetime experience and was such a powerful event.
When Revered Matthew Pawlikowski read the words written
by Mike Dowe, man who was in the same POW camp with
Father Kapaun I swear I didn't think I was
going to be able to stop crying. There is no doubt in my mind
that that man, Father Emil J. Kapaun, is a saint and the amount
of love and respect that his fellow POWs hold for him still to this
day is greater than anything I have ever witnessed before. 
.
That same day the Governor of Kansas Laura Kelly
deemed September 29th as Fr. Kapaun Day.
.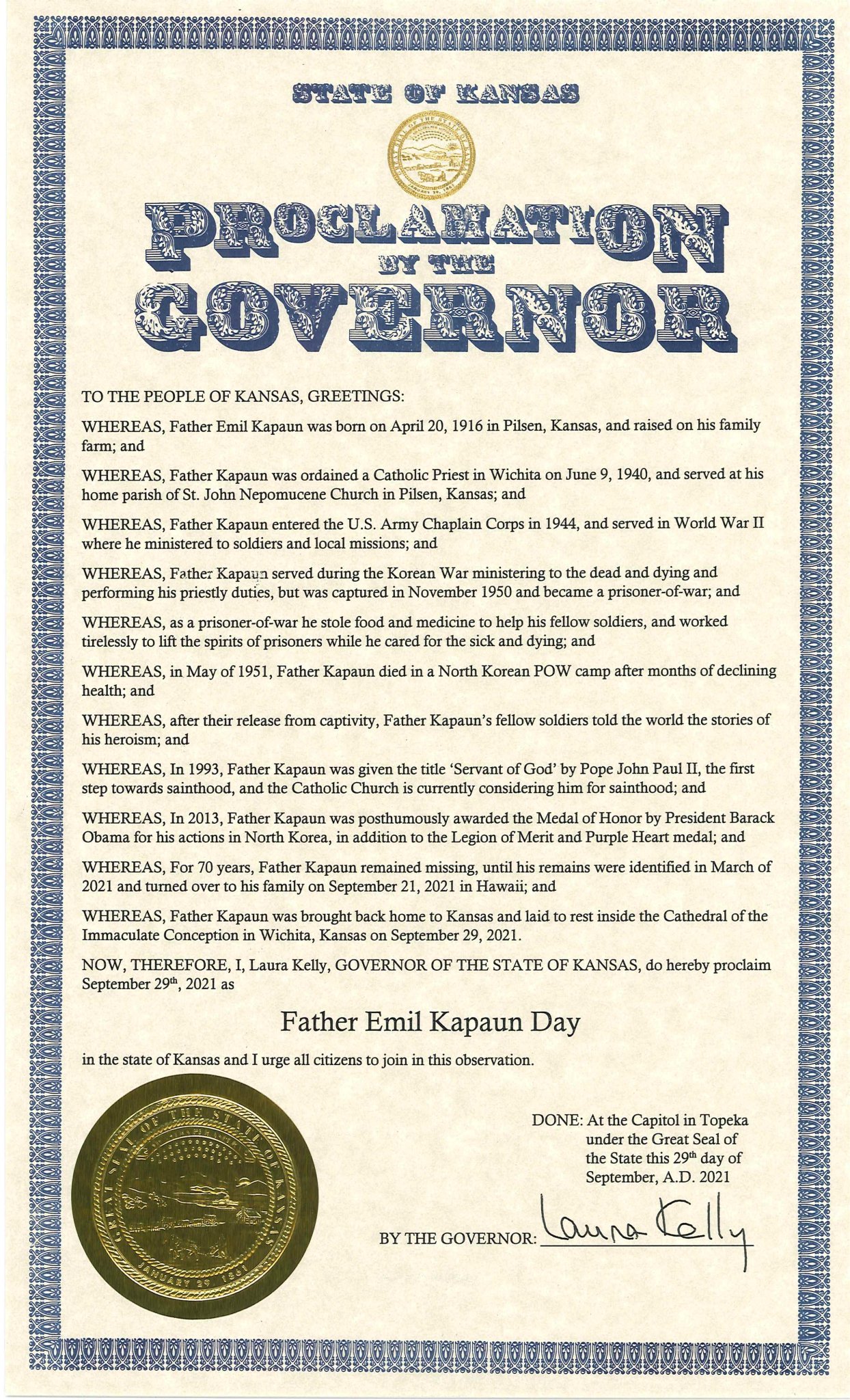 .
I definitely didn't expect these events to be so
emotional for me, but it is just a testament of how
strongly Father Kapaun has impacted me and my
family. Over the years praying to him provided strength
when there seemed like there was none left. He quelled
our fears and made us brave. He protected us and
brought my cousin Simon home safe from war. He has been
a pillar of faith my family can turn to at any time and now he
has finally made it home. Welcome back Father and, pray for us.
.
Father Kapaun Prayers
.
Want to know more about Father Kapaun? You can read
more about him here or take the time to visit Pilsen
yourself! See Father's hometown parish and/or take a walk
through the on site museum.
.
Museum Hours: Tuesday and Friday afternoons 1:00 – 4:00 PM
Or by appointment on Weekdays and Saturdays.
Contact Harriet Bina, 620-381-1689, to set up a visit.
Tours normally take 1 ½ – 2 hours.
.